A Very Very Very Dark Matter, Bridge Theatre
Posted: Mon 15 October, 2018
Filed under: 2017/18, Day Trips, Do More, Five Year Plan (now Ten), London, Reviews(ish), Theatre, Thoughts, Travel
Leave a comment »
I've liked all the films by Martin McDonagh – "In Bruges", "Seven Psychopaths" and "Three Billboards Outside Ebbing, Missouri" – but didn't know until this year that he's also been a prolific playwright.
(This, it turns out, isn't unusual – the knowledge of McDonagh's works seems to be pretty polarising. I haven't yet met anyone who could blather about both sides of his work – people know either the films or the plays, but rarely both, and are surprised to learn of the other side)
Back in January, it was announced that there would be a new McDonagh play premiering at the Bridge Theatre in London, and on spec I thought I'd book tickets and give it a go. (Still knowing nothing about his plays) The play was called "A Very Very Very Dark Matter" (always a good omen) and the description for it was…
In a townhouse in Copenhagen works Hans Christian Andersen, a teller of exquisite and fantastic children's tales beloved by millions. But the true source of his stories dwells in his attic upstairs, her existence a dark secret kept from the outside world.
As it turned out, I managed to get tickets for the second performance – previews rather than "proper" performances, but still, second ever one.  Which is pretty good, by anyone's standards.
On Saturday, that's where I was.  And it's a strange old production for sure.  I'm fully aware that I have other friends going to see it still, and I'm not tosspotty enough to spoiler it at all (which makes this a bit harder to write) but it's a weird, dark, sweary and scabrous affair.
Jim Broadbent plays Hans Christian Andersen as a fairly unpleasant human being – utterly self-centred, but also a quite spectacular idiot – who is taking advantage of the source of his stories. He also goes to visit Charles Darwin Dickens (a regularly repeated joke through the play) who is played by Phil Daniels as an exceptionally sweary (and very funny) Cockney – and who may also be housing a similar source for his stories.
Along the way there's violence, creepy attics and puppets (and arachnophobes should be aware that one of them is a big spider), time travel, writers, lots of swearies, and general weirdness.  In short, it's a Martin McDonagh script.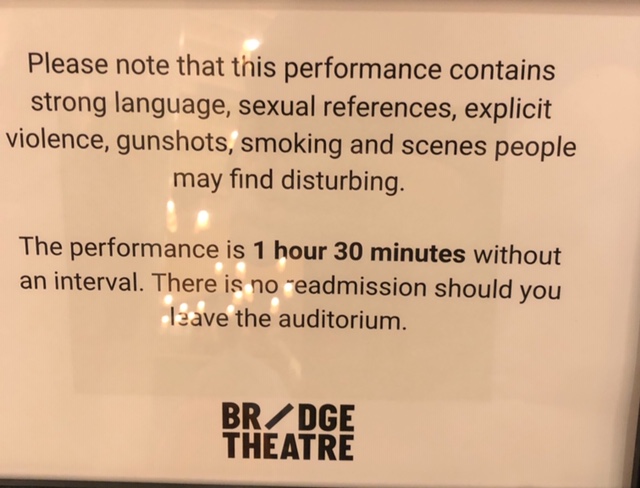 All told, I did enjoy the play – although I did feel that it could've been better, and made more of the subject matter it had – but I don't honestly know that I'd want to see it again…
---