Faustus
Posted: Tue 20 September, 2016
Filed under: 2015/16, Do More, Domestic, Five Year Plan (now Ten), London, Reviews(ish), Theatre, Thoughts
Leave a comment »
Earlier this year, I saw Faustus at the Duke of York's Theatre in London, with Kit Harington playing the lead. (My thoughts on it are here, for reference)
The weekend just gone, I saw another version of Faustus, this time the RSC's version at the Barbican Theatre.  It was a more traditional version of the play (for the most part) and really interesting to compare the two.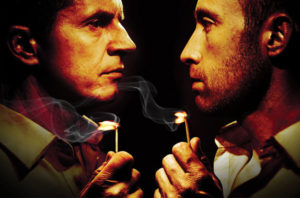 What I hadn't realised (due to being pig-thick) is that it shares a lot of the cast with the RSC's version of the Alchemist, which is showing at the same time – well, on the same days – and which I saw the previous weekend.
It starts with an interesting premise – the actors light a match each, and whoever's match burns out first plays Faustus.
The rest of the play sticks closer to the original – or at least as I understand it, not having read it yet – than the Harington version, although it did also still have some very odd moments of dance, which I can't quite explain. Still good, but slightly barmy.
The staging is quite minimalist (or at least appears that way) but is also quite complex in how things are done. I guess some of that is because of the requirements of running two plays with very little time between performances, so there can't be anything too complex – but they've made the best of it, and it's pretty inventive all round.
All told, I enjoyed it a lot – more than the Harington version, even with the barmy bits – and it's certainly left more of an impression with/on me than that one did.
---