Bo Bech at Bibendum
Posted: Thu 20 September, 2018
Filed under: Day Trips, Domestic, Food, London, Single Life, Solo Dining, Travel
Leave a comment »
Last week, Claude Bosi (one of the chefs I follow on Twitter) announced that one of his good friends, Bo Bech of Copenhagen's Geist would be cooking at Bosi's restaurant at Bibendum in Michelin House in London for one night only, in support of Bech's new book, published that day. And I was lucky/early enough to get myself a table.
The event was last night, and it was epic.
Me being me, I turned up a bit early – I'm always happy to sit at the bar or whatever – which meant I also got to go into the kitchen, meet Chef Bech and his crew, and have a quick chat. Pretty impressive in and of itself!
As part of the price of the meal, all diners also got a signed copy of the new book "In My Blood" (which is beautiful, and brilliant) which added to the event as well.
And the food itself was spectacular.  Things that just shouldn't go together (Duck, Pumpkin and Coffee? Shouldn't work. Does.)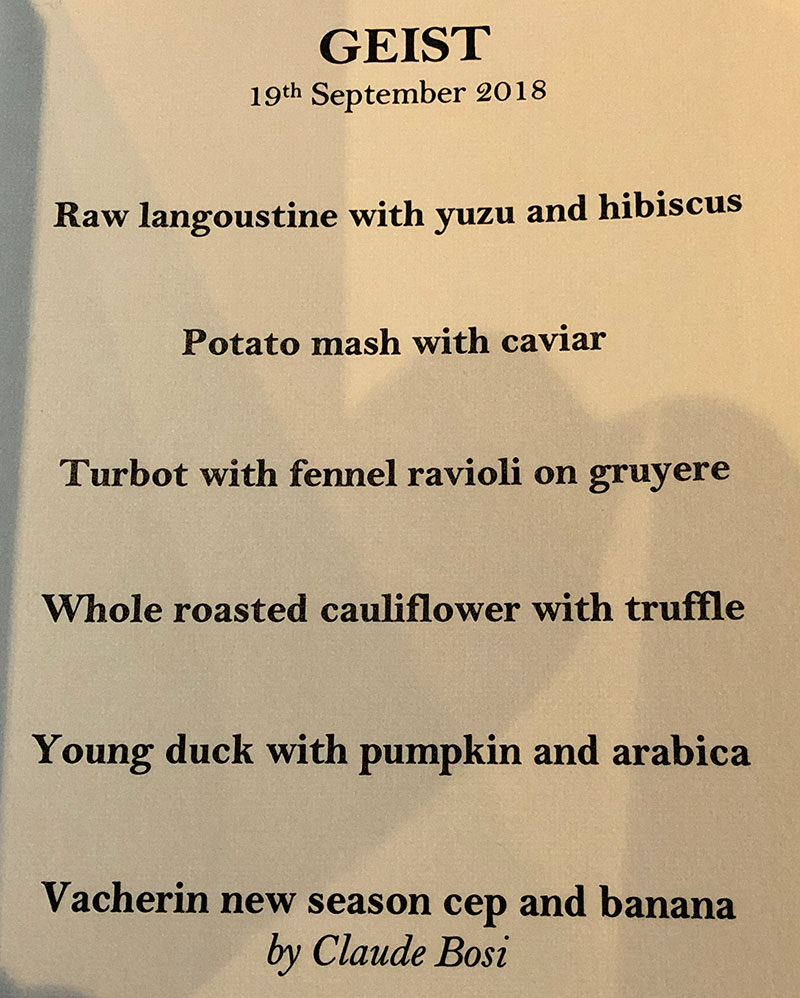 All told, it was one of the best meals I've had – and that potato mash with caviar is definitely the most decadent course! – and it was just spectacular.
So now I need to organise a city break to Copenhagen and go to the place itself.  And there's a couple of other restaurants there I want to try as well. That could be a very expensive weekend…
---