New Zealand War Memorial
Posted: Wed 23 August, 2017
| Author: Lyle
|
Filed under: Domestic, London, Photography, Sculpture, Sociable, Travel, Walking
|
Leave a comment »
Last Sunday, I was in London to meet friends and eat food. (I know, it's a shock)
I was hugely early (also not a shock) but semi-intentionally so, as I'd originally planned to do a decent-ish walk (still no shocks) and then meet up.  But other plans from the day before had changed, so I started off by knocking the planned 8-miler on the head, and instead taking the Tube in to London, have a smaller more sensible walk, and then meet up.
And then I walked, and it all changed a bit, so I ended up still doing a nearly-eight-miler. Because I'm an idiot. (Hey, where are those shocks? Nope, still not happening)
The route was a bit different to my usual ones though, and on a couple of occasions ended up with "Oh, I could go that way, but I've done that before. So let's go this way instead".  On one part of that, by Hyde Park Corner, I opted to cut through by Wellington Arch instead.
And in there, it turns out that there's a huge sculpture piece for the New Zealand War Memorial. It really is quite epic – and yet dwarfed by the buildings, arches and other stuff nearby.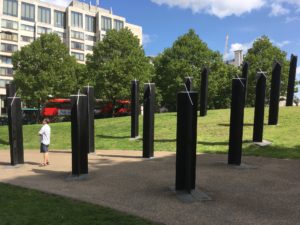 I really liked it – and although this time I was on a bit of a stomp, I'll definitely go back on an occasion where I've more time, and look at them properly.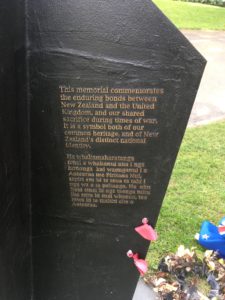 ---