Posted: Wed 12 September, 2018
Filed under: 2017/18, Cambridge, Day Trips, Do More, Domestic, Five Year Plan (now Ten), Reviews(ish), Theatre, Thoughts, Travel
3 Comments »
On Monday night, I trolled over to Cambridge to see Brian Blessed on stage doing his "An Evening With" tour. Safe to say, it was a fun night.
I've been a fan of Blessed since his turn on Flash Gordon – which is now a very long time ago – which also gave him his most recognised phrase (and with which he opened the show) of "Gordon is Alive!"
The entire show was kind of ramshackle and rambling, certainly nothing like the far slicker comedians and musicians that the audience was obviously more used to. I saw a few people with expressions of "What the fuck?!?" as it went on, because the were very few coherent stories, it appeared to be all more of a shotgun approach, as and when he remembered stuff.  (Without seeing the show again I have no way of knowing whether it's intentionally shambolic, or that it's just the way Blessed is)
For me though, I'd pretty much expected that, and it didn't disappoint or disconcert me at all.
I thought the entire thing was a lot of fun (and also very loud, and sometimes sweary – also things I'm OK with) and would happily go and see it/him again.
I think the final note to leave on, though, is this notice on the doors.
---
Posted: Wed 3 January, 2018
Filed under: Cambridge, Customer Services, Cynicism, Day Trips, Domestic, Driving, Getting Organised, Stupidity, Travel
1 Comment »
Way back at the start of November, I went to a restaurant in Cambridge, and parked up in a marked parking area where you either displayed a ticket, or used an online payment app. There was a sign saying "Maximum stay 2 hours", but nothing about "no return within [x] hours" or anything.  I paid using the RingGo app on my phone, and decided that if I exceeded that 2 hour limit, I'd simply buy another ticket via RingGo.
Anyway, the meal took a lot longer than the two hours – but when it came to the time, I started to get another ticket, only to be told "No return within an hour" by the app – the first time it had been mentioned anywhere. (The parking was too far from the restaurant for a "quick dash" to pay cash for a new ticket, as well)  Bollocks, thought I.
Once the hour was done, I got another ticket (yes, the meal went on that long) but I was pretty sure I'd have a ticket when I got back to the car.
And I did.  I also re-checked the signs, and took a photo of them, to prove there was nothing about the return clause on the signage.  Once I got home, I paid the ticket – I couldn't argue that it had been issued correctly, after all! – and then appealed it, becaue of the lack of information and signage.  Despite information on the website saying I could (and indeed should) pay and then appeal, immediately it started throwing problems of "You've paid this, so can't appeal it" and so on.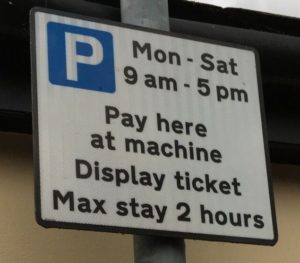 I ended up getting in touch with Cambridgeshire Parking by email, explaining the situation, that the signage and app made no mention at all of the 'no return' clause, including the photos and screenshots. And once it was sent, I waited. And waited.
Two weeks later they came back, saying "It says about no return on the ticket machine. Appeal denied".  And that was pretty much it. Nothing else about how to appeal a decision to an independent review (which, according to the website, should be provided every time an appeal is denied) or anything else. So I wrote back, explaining the situation again, that I'd gone nowhere near a ticket machine – having paid online – so never saw the one place they say the clause is detailed.
Another two weeks, and another "Nope. It says it on the ticket machine. You should've checked. Appeal denied" response. (Admittedly I'm paraphrasing – but not by all that much!)  And still no information about how to take it to an independent adjudicator.
Eventually though, just before Christmas, I ended up speaking to a manager. My sense of humour had utterly failed, I'd escalated it to a full-on complaint, and got the call.
The entire situation is ridiculous. In order to get the information about the adjudicator, I'd have to get my initial paid fine refunded, let the council go through DVLA to find the vehicle owner, send me a formal notice, then I could appeal it, get denied, and get the information about the adjudicator. Which might take up to three more months. Utterly, utterly farcical.  But still, I was prepared to do it – not for the money, but simply for the fact that Cambridgeshire Council seem to think that it's OK to not provide the information, and then fine drivers who haven't actually walked to the ticket machine.
Anyway. Common-sense finally kicked in. The fine will be refunded, and they've accepted that signage (and app information) needs to be improved.  The manager still insisted that "no signage mentions the no return clause, that's a national thing" and so on, but there's going to be a review.
The real icing on the cake for that, though, was that after two months of dealing with this, I was back in Cambridge the following day, and parked at a different piece of on-street parking.  And lo and behold, on the information for that one, the signs say about the no return clause, and so does the app.  Which means it's definitely about inconsistent information within the council, rather than my being utterly wrong.
And yes, I did re-email the manager to tell them that as well…
---
Posted: Wed 20 December, 2017
Filed under: Cambridge, Domestic, Gigs, I Don't Understand, People, Reviews(ish), Travel
Leave a comment »
About 18 months ago, I went to see Fish (the ex-lead-singer of Marillion) at a gig in Aylesbury, including performing the whole of Marillion's "Misplaced Childhood" album for its 30th anniversary.
This year, it was announced he'd be touring again, and this time performing both stuff from the new album, and the whole of the "Clutching At Straws" album – again, for its 30th anniversary.
As with "Childhood", "Straws" isn't among my all-time favourite albums, but they both got played a lot as I grew up, so it was still of interest to go and see it performed live.  And I'm glad I did.
The gig started with some old favourites, but nothing new. And there was a reason for that – he hasn't actually written the new album yet, let alone released it.  When they advertised the gigs and organised the tour, they expected it to be done, but life got in the way. So… some classics instead of new stuff. Fine with me, and apparently fine with most of the audience too.
As for the performance of "Straws" itself, that was excellent, and brought back a bundle of memories of listening to the album, as well as re-realising just how bleak it is in places. There were also parts of it that they'd never performed live before this tour, including one track that was ad-libbed at the time, so Fish had to listen to the album in order to write down the lyrics to learn them for performance. Which is, when you think about it, pretty messed up.
Anyway, the gig was one I really enjoyed – in spite of the audience.  As always, I really don't understand the mindset of people who go to a concert, and then spend the entire gig going to and from the bar, and the toilet.  The three people in front of me (it was a seated gig) were barely ever in their seats, and kept walking off. That's not just a waste of their time and money, it's also insanely annoying for the people around them, getting constantly disturbed and having to move.
But, audience aside, it was a good gig. It might be the last time he tours, it might not. It's likely the last chance to see "Straws" performed like that, so it was definitely worth going.
---